Academy of Distinguished Teachers
April 28, 2011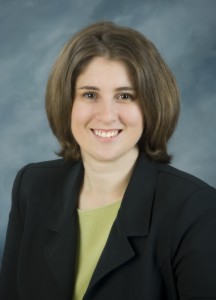 Dr. Lesley Strawderman, ISE Assistant Professor, is one of the newest members of the Bagley College of Engineering Academy of Distinguished Teachers. Her selection was based on nomination letters from Mississippi State administrators, faculty, and students that highlighted her dedication to teaching.
Professor Strawderman specializes in courses and research involving human factors and ergonomics. She actively seeks out new ways to reach students and help them on their paths to graduation. Dr. Strawderman has developed courses for distance education and preparatory sessions for students taking the fundamentals of engineering exam. She is active in the American Society for Engineering Education's industrial engineering division. Professor Strawderman earned a bachelor's degree from Kansas State University and master's and doctoral degrees from Penn State University.
Dr. Strawderman is an exemplary educator, and the faculty, staff, and students are delighted that her success and dedication to educating top caliber engineers has been recognized by the Academy.