ISE Student Wins National Honor Society Scholarship
March 13, 2008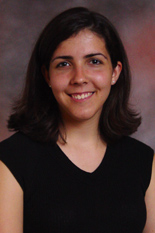 Congratulations to ISE senior Josie Smith. She competed nationally to receive one of nine scholarships from the industrial engineering honor society Alpha Pi Mu.
Josie was also recently inducted into the Bagley College of Engineering Student Hall of Fame. The hall of fame award recognizes students who have made outstanding contributions to their departments, the college and Mississippi State during their time here at MSU. She was selected from nominations made by the faculty, staff and students.
Josie is a distinguished scholar and an active member of the ISE department's student representatives. She has also served as an MSU Roadrunner since her freshman year and is a member of the honor societies of Phi Kappa Phi, Tau Beta Pi, Alpha Pi Mu, and Lambda Sigma. Josie has also been active as a youth counselor at Starkville's First United Methodist Church.