ISE Senior Wins National Honor Society Scholarship
April 13, 2011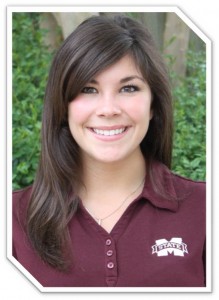 Mary "Ginny" Sewall, a senior in the Department of Industrial and Systems Engineering, has earned a scholarship for the 2011-12 academic year from the world's largest engineering honor society, Tau Beta Pi.
Ginny has maintained a 4.0 GPA during her time at Mississippi State and was recently named Most Outstanding Senior from MSU by the Mississippi Engineering Society. She has been active in Delta Gamma sorority, Campus Activities Board, and the Student Association. She serves as an undergraduate researcher and has worked as a camp counselor for the BCoE's QUEST program, which introduces high school seniors to engineering research.
Tau Beta Pi began its scholarship program in 1998. When evaluating applications, the award committees look for high scholarship, strong faculty recommendations, definite extracurricular contributions, unusual promise of substantial achievement, and a program through which accomplishment will advance the interest of the engineering profession.