Two ISE Students Win National Honor Society Award of Excellence Scholarships
March 14, 2009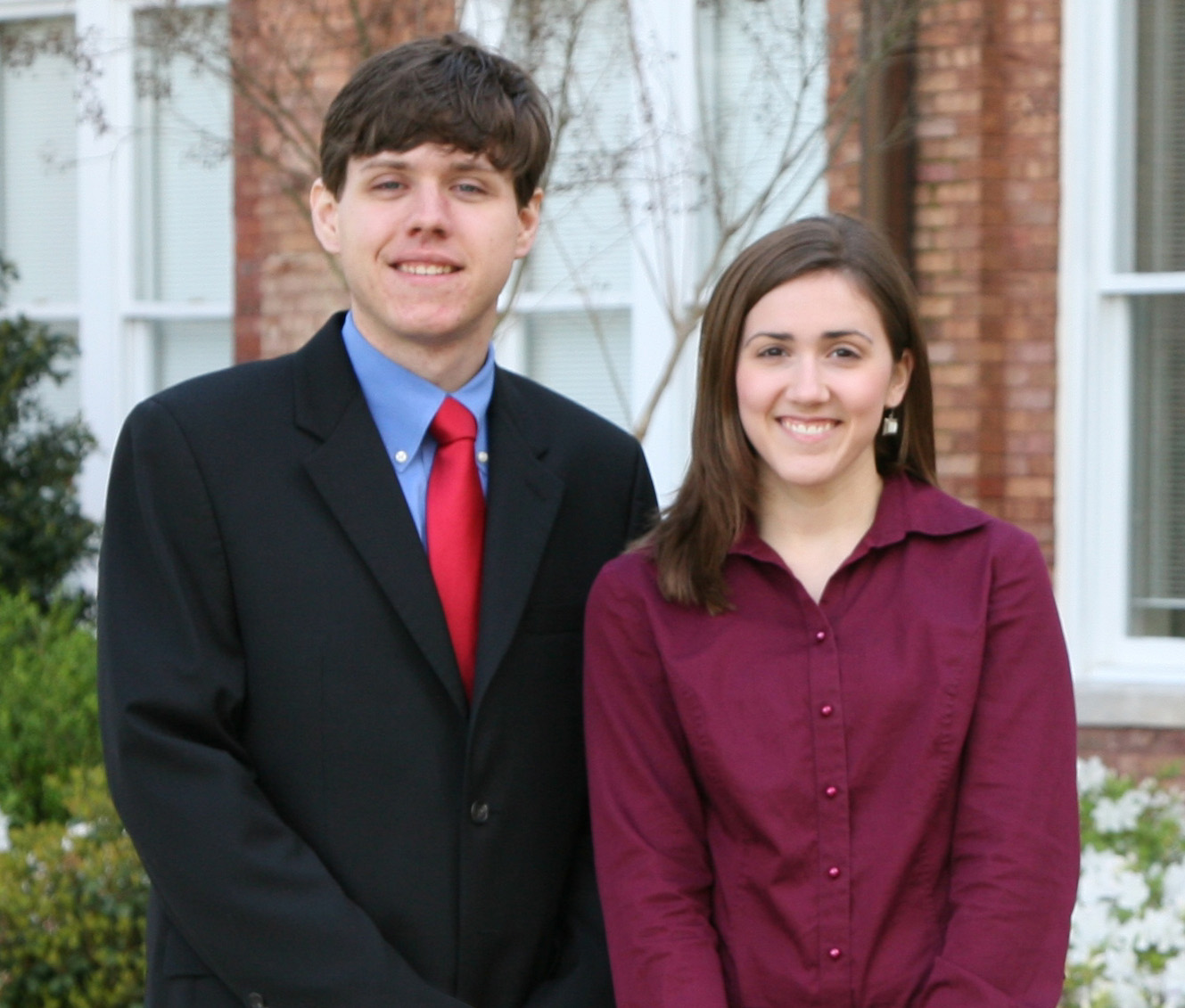 Industrial and Systems Engineering students have claimed two of this year's eight Alpha Pi Mu National Awards of Excellence that recognize academic achievement, leadership and well-rounded interests.
Seniors Carl Morris and Martha "Missie" Smith have both maintained perfect 4.0 grade-point averages while balancing a full slate of extracurricular activities.
"People are shocked to learn that an engineering major has maintained a 4.0 because it's so easy to slip somewhere along the line," Morris said. "I attribute a lot of my academic success to time management. Often I have to shuffle my activities, but I always put classes first and try to keep time to myself. However, I would rather be doing too much than too little."
Currently, Morris serves as president of Mississippi State's chapter of the Institute of Industrial Engineers (IIE) and recording secretary for Tau Beta Pi. He also finds time to participate in the MSU fencing club and several musical groups, while conducting research with MSU's Alpha Pi Mu advisor, Dr. Mingzhou Jin.
"I am working with Dr. Jin to create and run a mathematical model to maintain hospitals' inventories, which will allow them to share stock and reduce waste from expired items," Morris explained. "One of the reasons I like my major is because industrial engineers continually strive to improve everything they do. They always strive to find the next best thing."
Smith, who maintains membership in IIE and the honor societies of Phi Kappa Phi and Tau beta Pi, serves as vice president of the Society of Women Engineers. She fulfills her desire to research by working with Dr. Kari Babski-Reeves to study human factors and ergonomics.
"I love the idea of working with people to accomplish a common goal that is going to make a difference in people's lives," Smith said. "Industrial engineering is a versatile major and I know I can go anywhere after college." Currently completing her third cooperative education semester at Eaton Aerospace in Jackson, Smith explains that her secret to success stems from finding her place at MSU.
"I have a wide variety of interests and toyed with the idea of several different majors before deciding on industrial engineering," Smith said. "Mississippi State feels like home to me, and I have found my classes to be interesting. If I care about something, I want to learn everything I can about it and, luckily, I care about industrial engineering."
For more information about industrial and systems engineering at MSU, email department head Dr. Royce Bowden at bowden@ise.msstate.edu.