Local Students Awarded National Scholarships
April 29, 2009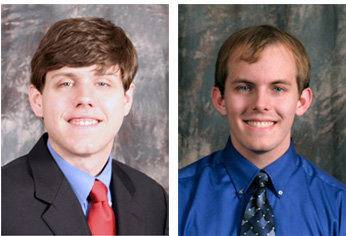 Four Mississippi State students will face the next school year with a little less financial worry weighing them down. Each has earned a $2,000 scholarship from the world's largest engineering honor society. Two of the students were from the Department of Industrial and Systems Engineering.
The Tau Beta Pi scholarships were each funded by different benefactors as part of the organization's scholarship program. The award recognizes students who are in their final year of engineering study. Each recipient obtained recommendation letters and achieved academic success while maintaining extracurricular contributions and demonstrating promise towards advancing the engineering profession.
Among this year's recipients were Industrial and Systems Engineering representatives Carl Morris, and McNeill Williford.
Morris is one of eight recipients of the national Alph Pi Mu scholarship, making this the second nationally competitive scholarship he has received in recent months. A senior in industrial engineering, he serves as president of Mississippi State's chapter of the Institute of Industrial Engineers and recording secretary for Tau Beta Pi. He also finds time to participate in the MSU fencing club and several musical groups, while conducting research with Dr. Mingzhou Jin. A native of Caledonia, Miss., he is the son of Thomas and Tereisa Morris.
A senior in industrial engineering, Williford has held numerous leadership positions with the University Honors Council including a recently completed term as the group's chair. In the coming academic year, he will serve as president of the university's chapters of both the IIE and Alphi Pi Mu, major specific honor society. Since coming to State, he has retained an academic scholarship while maintaining active membership in the Entrepreneurship Club and Phi Kappa Phi along with his other leadership activities. A native of Madison, Miss., he is the son of Elizabeth Williford.
Tau Beta Pi was founded in 1885 at Lehigh University. With its current headquarters at the University of Tennessee, Knoxville, the organization has more than 230 collegiate chapters and 505,000 members. Additional information can be found by visiting www.tbp.org.