ISE Student Receives Prestigious Simrall Award
December 17, 2008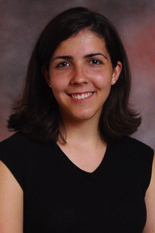 ISE senior, Josie Smith, has been awarded the Harry Charles F. Simrall award from the Association of Retired Faculty. The prestigious award is given to an outstanding senior in the Bagley College of Engineering for their academic achievements, professional leadership, and community service.
Ms. Smith has received several academic awards and scholarships for her educational vigor: the Outstanding Industrial and Systems Engineering Senior, the Schillig Scholar at Mississippi State University, and the William Bunker Industrial Engineering Scholar. She has also been recognized by several honor societies such as Phi Kappa Phi, Tau Beta Pi, Alpha Pi Mu, and the Lambda Sigma Honor Society. Further, Ms. Smith has also been recognized through the MSU Global Leadership Program (Kwangwoon University, Seoul, South Korea) and has received the Spirit of State Award. She has improved the campus experience through her leadership and service roles in several organizations including ISE-REPS, Roadrunner, Engineering Ambassador, Honors Council, and Student Association.
Congratulations, Josie!