ISE Department Head Named Associate Dean of College
September 16, 2011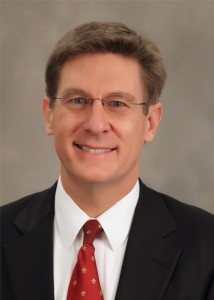 Royce Bowden, professor and head of Industrial and Systems Engineering (ISE), with more than 23 years experience as a faculty member will become associate dean for academic affairs in the Bagley College of Engineering (BCoE). He assumes his new role September 16, 2011. Professor John Usher will take the wheel as interim head of Industrial and Systems Engineering in Bowden's absence.
"Dr. Bowden brings exceptional experience in not only faculty matters but also undergraduate affairs and accreditation," explained Sarah Rajala, dean of the BCoE. "With this background he will be a valuable member of our team as we continue to move the college forward, and I am excited to welcome him to this new leadership role."
Since coming to MSU in 1988, Bowden has moved up the ranks of the Department of Industrial and Systems Engineering from instructor to being named full professor in 2002. He has served as department head since 2005. In that time, the department's undergraduate and graduate enrollment increased by 55 and 93 percent respectively, earning a spot in U.S. News and World Report's graduate school rankings for the first time in its history.
His other leadership roles at the university have included director of MSU's National Center for Intermodal Transportation, co-coordinator of the Remote Sensing Technologies Center's transportation focus area, and director of the Simulation and Advanced Computation Laboratory. He is a three-time winner of the Hearin-Hess Distinguished Professor award and was a Hearin Eminent Scholar of the college from 2003-05 until becoming a department head. He has authored numerous research papers and two simulation books. The systems optimization techniques developed through his research have been adopted in commercial software and academic textbooks used in engineering education globally.
Bowden has earned numerous commendations for his work with MSU student groups and his volunteer efforts with the Boy Scouts of America. He has been an industrial engineering program evaluator for the Accreditation Board for Engineering and Technology since 2007. He is also a member of the Institute of Industrial Engineers, the Council of Industrial Engineering Academic Department Heads, and the American Society for Engineering Education.
He earned master's and doctoral degrees in industrial engineering from Mississippi State University. Prior to attending Mississippi State, he worked in manufacturing engineering position with Texas Instruments and Martin Marietta Aerospace.
Composed of eight academic departments, the Bagley College of Engineering is Mississippi State's third largest college. It currently ranks 34th among all engineering colleges nationally in research and development expenditures according to the National Science Foundation.
For more information about the BCoE, visit www.bagley.msstate.edu.