Bullington receives BCoE Online Teaching Award
May 14, 2014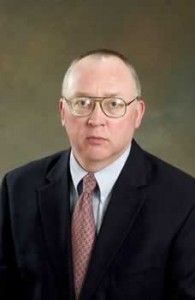 STARKVILLE, Miss. – An industrial and systems engineering professor has earned recognition for distance education.
Stan Bullington accepted the 2014 Excellence in Online Teaching Award May 1 at Old Waverly in West Point, Mississippi.
Bullington began teaching online classes in 1990. Since that time, he has taught 53 sections of distance courses. He also contributes to the distance programs by serving as a student adviser. He was the co-adviser of ISE's first distance doctoral graduate in 1996 and has served as an adviser for all incoming distance students for 16 years.
Bullington delivers his lectures in a variety of ways to engage the students in the material. For example, he uses interactive quizzes during his lectures instead of simply presenting the material to students. He said he believes that effective education must be student-focused. Instead of focusing primarily on the course material, he concentrates on how well the students are grasping the concepts, emphasizing critical "big-picture" thinking, rather than memorization.
In his nomination letters, students describe Bullington as flexible, helpful and committed. One student wrote, "Whenever I saw Dr. Bullington's name on the schedule, I would immediately plan to take that course because I could count on learning a great deal of practical information from him. Also, he really understands the challenges of being a distance student and organizes the class in a way that I can be successful."
Bullington is known for accommodating the needs of distance students by creating an environment where they can learn effectively, comfortably and at a reasonable pace. He aims to match the distance students' experience to that of on-campus students by encouraging classroom students to use microphones when commenting, allowing distance students to hear all class discussions. He also attempts to make distance students feel like an integral part of the class by including their comments and questions in lectures and occasionally referring to those students by name.
Within the college, Bullington uses his distance teaching experience to mentor other faculty members. He has been praised by his colleagues for his ability to effectively explain concepts to students whether they are on-campus or distance students. One colleague wrote, "We are fortunate that the distance education program provides a means for him to reach so many students. His extensive experience and highly regarded teaching makes him an invaluable colleague."
Bullington earned a bachelor's and doctoral degree in industrial engineering from Auburn University. He also earned a master's degree in industrial engineering from Purdue University. He has published several education-related articles in journals and conference proceedings, and has received funding for his engineering education teaching and research endeavors.
In 2007, he was named a charter member of the BCoE Academy of Distinguished Teachers. He has also been recognized as Outstanding ISE Departmental Faculty member, Diversity Enhancement honoree, MSU IMAGE Faculty honoree, and MSU Mortar Board Professor of Distinction. He is a member of the American Society for Engineering Education, American Society for Quality, Institute of Industrial Engineers, and has served as an Examiner of the Malcolm Baldrige National Quality Award.
Established in 2013, the BCoE Excellence in Online Teaching Award highlights an instructor who has excelled in improving the online education program of the college. Faculty and student recommendations are used to help determine the award recipient.
For more information on BCoE-Learning, visit the website at www.bcoelearning.msstate.edu.
More information about the Bagley College of Engineering can be found at www.bagley.msstate.edu.
By: Jen Nguyen