An ISE Students Receives Spirit of State Honors
May 15, 2009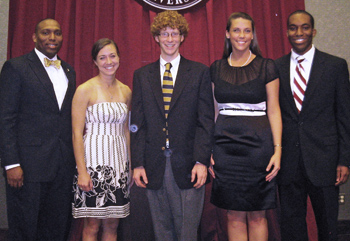 Jenna Owen, a freshman industrial and systems engineering student, was one of five in the Bagley College of Engineering (BCoE) to receive recognition as 2009 Spirit of State award winner.
Owen has many accomplishments to her name. She is president of the Freshmen Engineering Student Council, as well as a BCoE ambassador and Industrial and Systems Engineering representative. A native of Wiggins, Miss., she is also an active member of Tri Delta sorority and MSU Student Association.
Since its establishment in 2006, Spirit of State awards have served as the university's highest student service honors. The awards recognize individuals' exceptional contributions to student life at Mississippi State including the areas of campus involvement, service to the university and impact to the campus community. Among this year's 22 award recipients, the BCoE representatives were William Cleveland, Anna Goblirsch, Jenna Owen, Joel Russell, and Terrance West.
The Division of Student Affairs presents the Spirit of State awards annually at a public ceremony. The recipients receive a customized gift to designate their achievement. More information about the award, including lists of all past winners, is available at www.saffairs.msstate.edu/spirit.