2010 ISE Distinguished Alumni Fellow
April 11, 2010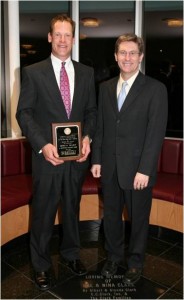 David A. Palmer was named the ISE Distinguished Alumni Fellow in 2010. He received a Master of Science in industrial engineering from Mississippi State University in 1996.
For the past 13 years, Palmer has served as chief executive officer of Synergetics Diversified Computer Services Inc., a Starkville-based systems integration consulting firm. Palmer is responsible for strategic planning and providing the leadership required for stable and sustainable growth, while ensuring a culture grounded in customer service. Under his direction, Synergetics has grown from a start-up to a recognized leader in information technology in the state of Mississippi. Synergetics has been honored by the Mississippi Business Journal as one of the Top 100 Private Companies in Mississippi for the past eight years. In 2009, Inc. magazine named Synergetics one of the Top 5000 Fastest Growing Private Companies in the U.S.
Prior to joining Synergetics, Palmer served as a project engineer for Sovitec S.A. in Fleurus, Belgium. In this position, he was a member of the engineering team responsible for the construction of a glass bead plant in Thailand. Prior to joining Sovitec, Palmer spent 10 years in various capacities, including process manager – glass bead production, at Cataphote Inc. in Flowood, Miss. Palmer is a member of the Mississippi State University Alumni Association and a contributor to the MSU Foundation, Larry Brown Scholarship Fund. He is a past president of the Starkville Optimist Club.